Silverado fire
The fast-moving, wind-powered Silverado fire burned in the hills north of Irvine on Monday, blocking main roads and threatening homes.
Here's what we know:
Road closures
Portola Parkway from Highway 241 to Jamboree Road
Highway 241 from Highway 133 to Santiago
Santiago Canyon Road from Cooks to Highway 241
Evacuations
A mandatory evacuation order has been issued for more than 80,000 residents in Irvine.
Between Great Park and Bake and north of Toledo to the city limits
Areas from Irvine Boulevard south to Trabuco Road and from Jeffrey Road east to Portola High School
Areas north of Irvine Boulevard between Jamboree Rd and Bake Parkway
Evacuations of the Silverado fire
(City of Irvine)
Evacuation centers
University community center
1 Beech Lane Lane
Irvine, CA 92612
Quail Hill Community Center
39 Shady Canyon Drive
Irvine, CA 92603
Los Olivos Community Center
101 Alfonso Drive, 91618
Harvard Community Center
14701 Harvard Ave., 92606
Rancho senior center
3 Ethel Coplen Way, 92612
Las Lomas Community Center
10 Federation Way, 92603
Turtle Rock Community Center
1 Sunnyhill, 92063
Newport Coast Community Center
6401 San Joaquin Hills Rd., 92657
Irvine village church
77 Post, 92618
Turtle Rock Community Center: 1 Sunnyhill, 92603
University Community Center: 1 Beech Tree Lane (currently full)
Quail Hill Community Center: 35 Shady Canyon Dr.
Los Olivos Community Center: 101 Alfonso (currently busy)
Harvard Community Center: 14701 Harvard (currently busy)
Rancho Senior Center: 3 Ethel Coplen Way
schools
Mandatory evacuations have been issued for the following schools:
Basic level:
Portola Springs
Eastwood
Stone gate
Loma Ridge
Canyon View
Santiago Hills
Montessori:
The harbor
Northwood
Little explorers
Tustin Unified Schools are evacuated to Beckman High School:
Hicks Canyon
Orchard Hills
UC Irvine has ceased all campus operations
Blue Ridge Fire
The fire on the Blue Ridge threatens homes in Yorba Linda.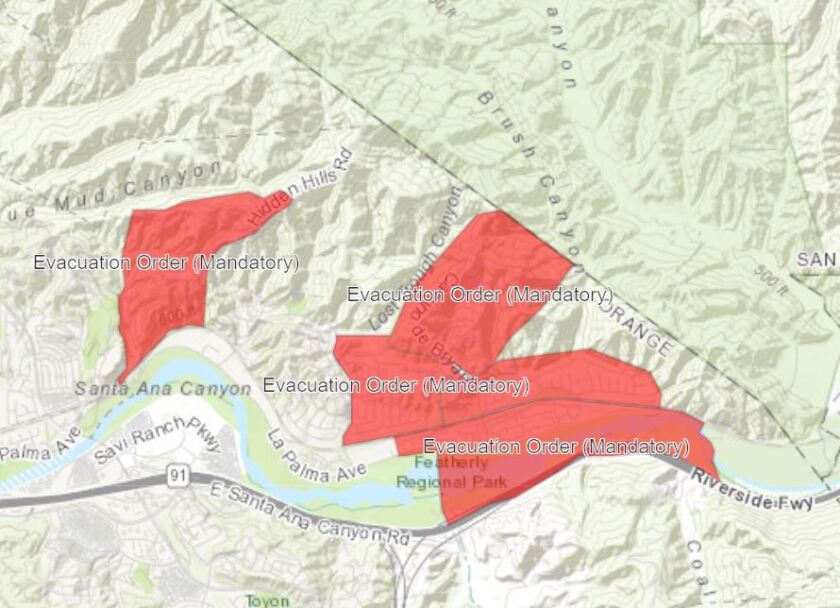 Evacuations of the Blue Ridge Fire
(OCFD)
Evacuations
Area north of Highway 91 east of Gypsum Canyon, including Bryant Ranch Elementary School.
Area north of the 91 Freeway along Hidden Hills Road.
Area north of Highway 91 along Avienda Bryant,
schools
Bryant Ranch School was ordered to evacuate. Students are taken to the reunification site, Esperanza High School at Kellogg Dr 1830, Anaheim.
Sources: City of Irvine; Orange County Fire Authority; OK sheriff