The Greek cake
If you asked me about my favorite pizza restaurant, Sgt would probably be top of the list. Pepperoni Pizza in Newport Beach.
I have many reasons for making this pizza place my favorite. It's been around since 1976, it's got a Beatles / music theme, it was bought and revamped by four long-time Newport Beach friends in 2013 (including Stan Frazier, longtime drummer for Sugar Ray band), and they have damn good pizza – though mine The favorite menu item is the pinwheel: pizza dough filled with topping, rolled up and cut into perfect pinwheels. Try the spinach and broccoli version with marinara sauce for dipping – although the pepperoni version is good too.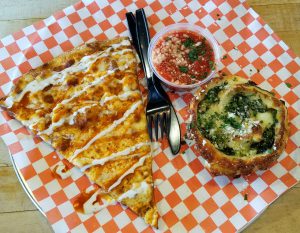 Sgt.Pepperoni Pizza and Pinwheel
Sgt. Pepperoni's always adds pizza specialties to their menu. Now until the end of June, Sgt. Pepperoni's Pizza has transported gourmets to the Mediterranean with a limited pizza specialty they call "The Greek Pie".
Inspired by the lively and fresh flavors of Greece, "The Greek Pie" offers a Greek yogurt base with chicken breast, mozzarella, red and green peppers, red onions, feta cheese and Kalamata olive basil.
This delicious cake was made by James Zagorski, Shift Supervisor at Sgt. Pepperonis Newport Beach. It is available as a piece and a whole cake. Visit http://sgtpepps.com for more information or to place an order.
But wat – there is more!
Last year the Sgt. Pepperonis partner opened a second location in Aliso Viejo. And soon they are unveiling a third location in Irvine's Campus Plaza on 4533 Campus Dr.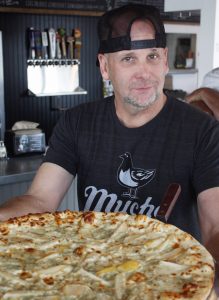 Stan Frazier of Sgt.Pepperoni Pizza
"We're working on some cool flavor profiles that are traditionally not found on pizza," said Stan Frazier, one of the brand's partners. "We look forward to sharing our signature pies and introducing new concepts to the Irvine community."
At the Irvine location, Sgt. Pepperoni's full menu as well as a number of seasonal specials and exclusive Irvine offers are served.
Popular cakes at all three locations are the 'Hawaii 5-0' (pepperoni, pineapple, sweet New York ricotta, fresh garlic and spicy pickled jalapeno) and the 'meatballs ricotta' (Stan's meatballs, sweet New York ricotta, fresh garlic, mozzarella ) topped with marinara).
Incidentally, Sgt. Pepperoni's also operates a food truck with a pizza oven on board for events and catering throughout Southern California.
Sgt. Pepperoni's regularly hosts fundraisers for local schools, sports teams, and charities. The pizzeria is also committed to Julian's LEGO corner in the CHOC children's hospital and organizes annual LEGO campaigns and fundraising campaigns that benefit the initiative. One thing the Sgt. Pepperonis team, the restaurant donates all proceeds from Lauren's biscuit to Julian's LEGO Corner.
Sgt. Pepperonis Pizza Store Partners: Ellen and Rob Dodman families, Jennifer and Stan Frazier families, Grace and Andy Hong families, Erica families and Jeff Roberts.