Bob Seger has always made his music with a minimum of effort. This is exactly how he deals with his farewell tour "Roll Me Away", which also includes his last concert in San Diego on Thursday in the Viejas Arena.
The last tour with his hard rocking Silver Bullet Band was announced in a simple five-sentence press release last fall.
There was no reason for Seger's decision to stop taking to the streets. According to his long-time press representative, he has declined all interview requests. So let Seger's 14 band members who prefer to let his words – or, in this case, the lack of them – speak for themselves.
But longtime fans shouldn't be surprised about the upcoming resignation of Seger, whose name stands for classic songs like "Night Moves", "Turn the Page" and "Rock and Roll Never Forgets".
He did not tour at all between 1987 and 1995 or between 1997 and 2005. And this artist, who was inducted into the Rock and Roll Hall of Fame in 2004, did not release a studio album in 1995 with new songs between "It's a Mystery" and "Face the Promise". in 2006.
To fill the void, three different compilations of Seger's greatest hits were released between 1994 and 2011. With or without touring, his heartland rock songs have remained part of the firmament of American pop music. The recognition for this – beyond the durability of his songs – can be traced back to several factors.
These factors include constant airplay on classic rock radio stations and the prominent use of his songs in hit video games (including "Gutiar Hero" and "Grand Theft Auto V") and films (including "Old Time Rock and Roll") "Risky Business." "," Against the Wind "in" Forest Gump "and" Roll Me Away "in" Armageddon "). More notably, his 1986 song "Like a Rock" was used consistently in television commercials for Chevrolet trucks from 1991 to 2004.
Bob Seger is shown in his home studio near Clarkston, Michigan in 2006.
(Photo by Carlos Osorio / AP)
Fill in the void
His long periods of inactivity made Seger regret the resulting lack of stable income for the members of his longtime Silver Bullet Band. So much so that in the early 1990s Seger seriously considered sending his band on tour to perform his songs with gritty Scottish singer Frankie Miller in his place.
"I felt really bad that my band wasn't working," Seger said in a previously unpublished section of a 2003 Union Tribune interview to promote his album "Greatest Hits 2". "Frankie would have done a great job!"
Miller's avid fans include Rod Stewart, Elton John, the widow of Otis Redding, and former Encinitas resident Joe Walsh of the Eagles. But Miller suffered a brain haemorrhage in 1994 and has been unable to perform since then.
Seger toured fairly regularly for the past 13 years, including a rousing 2015 concert here at the Viejas Arena where he played 22 songs through in almost two hours. Nevertheless, in 2011 he told an interviewer that his tour days were coming to an end because "I can't do this much longer".
In a 2015 interview with Union-Tribune, Seger explained the factors that would determine how long he would continue his life on the streets.
"Well, I check after every tour," he said. "It all depends on how well my voice holds. And so far it has held up really well on this tour. It's really a pleasure to do with my band. But the bottom line is that when my voice drops, I don't want to be out there doing (inferior) performance. "
His decision to tour again in 2006 after a ten-year hiatus was a cause for celebration for fans of this veteran Detroit troubadour, whose songs have been covered by artists as diverse as Metallica, Waylon Jennings, Thin Lizzy and the Pointer Singers, Billy Bragg and Wilco.
Unfortunately, Seger's back was possibly an important consideration in his decision to start his farewell tour.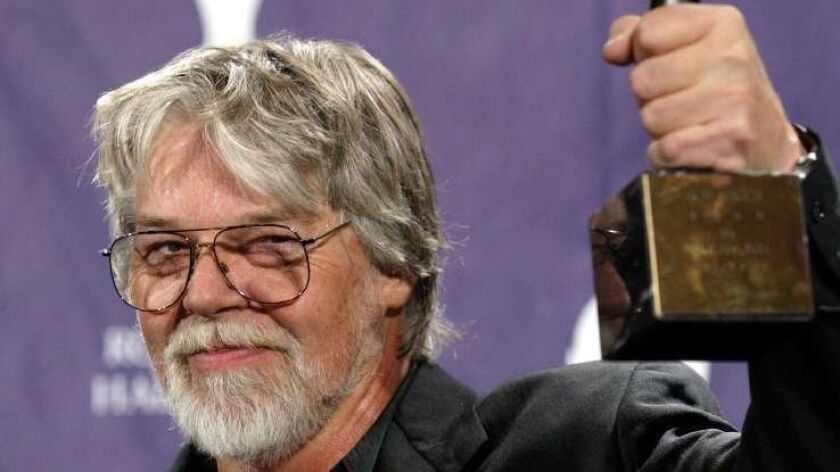 Bob Seger will be featured during his 2004 Rock and Roll Hall of Fame induction.
(Photo by Ed Betz / AP)
Back to the wall?
In September 2017, a painful spinal disease caused him to postpone his "Runaway Train Tour" after playing only 13 of the 33 scheduled appointments. A month later, he underwent a cervical laminectomy to repair a ruptured disc at the University of Michigan Hospital in Ann Arbor, followed by a three-month recovery.
"The pain has subsided. I'd say it's one in ten, but it's consistent, "Seger told Billboard magazine in an interview in late 2017." It's annoying and unfortunately I can't sing or play or lift more than five pounds, not over mine Head until it's gone. So it's difficult to train or something. I can walk. That's all.
"It's crazy. I'm just stuck here. But they warned me about it. They said it was going to really hurt about three months later, but the payoff (the surgery) didn't go anywhere near my larynx. They went in the back so my voice is probably fine. So I think it'll be alright, I really do. But god it takes a long time …
"They say, 'We can't guarantee it will ever go away,' but that's what doctors have to say. I think it'll be fine, but if it doesn't, I'm done, dude. "
Fortunately, reviews of Seger's recent concerts in 2019 suggest that he is in strong vocal form and performing with palpable enthusiasm.
As in 2015, his concerts still last almost two hours and still contain 22 songs.
His current stage repertoire includes perennial favorites like "Old Time Rock and Roll", "Like a Rock" and "Ramblin 'Gamblin' Man" (which gave Seger his first national Top 40 hit in 1969). He also shows his versions of Bob Dylan's "Forever Young" and Lou Reed's "Busload of Faith", the latter of which appears on Seger's "I Knew You When" album with partially updated lyrics.
Now that his 74th birthday is approaching in May, he will tour through March 17th, followed by a lonely May date in Texas.
But Seger has already extended his farewell tour at least once. And on Valentine's Day, he announced 12 more new dates, culminating with shows on June 6th and 8th – where else? – Detroit.
In the meantime, Seger has not stated that he will no longer write and record songs. But he also has another goal in mind.
"I'd really like to write a book someday, a long-form work, rather than the tight form of songwriting where everything has to rhyme," he said in a previously unpublished section of his 2015 Union Tribune interview.
"I don't know what kind of book, but I admire so many writers and read a lot. I'm pretty happy. I've done pretty much anything I wanted to do. I just want to try to write in long form. "
Bonus Q & A: Seger on Seger
Here are some previously unpublished excerpts from Bob Seger's extensive 2015 Union Tribune interview.
Q: You are an avid golfer. Have you ever played with Alice Cooper and, if so, who won?
A: Oh, Alice did it! He's a great golfer and great fun to be with.
Q: Your touring band has long featured Grand Funk Railroad alums Don Brewer and Craig Frost. Have you ever thought about hiring (bassist) Mel Schacher and having a Grand Funk Trifecta?
A: (laughs) No, if my bass player wasn't available I would get Glenn Worf, who lives in Nashville and is a wonderful musician and a great guy. He's my connection to other musicians in Nashville. My tour band lives everywhere, so I just go to Nashville (to record) because I've known all the guys there forever. They play everything so fast and so well and it's such a great sound. The hard part of recording for me is finding the right sound. It's endless because I don't know that much about sound.
Q: On your "Mongrel" album in 1970, you recorded a high-octane version of Ike and Tina Turner's "River Deep / Mountain High". Have you ever got any feedback from Ike or Tina on your version?
A: I got it from Tina. I visited her in the early 1980s before she grew up again. I remember seeing her in a club in Seattle. We went in and she made my song "Hollywood Nights". She is a wonderful girl. I loved her and always had. What a singer! I had two songs on the "Mongrel" album – "Big River" and "Lucifer" – that Glenn (Frey) and Don (Henley) did in their band before they were called the Eagles.
Q: Speaking of rivers, "Let the Rivers Run" – the moving ballad that concludes your 2014 album "Ride Out" – is copyrighted in 2005. It's such a good song that I wonder if it was from your previous album omitted accidentally or on purpose, and when you have a stash of unreleased songs that have accumulated over the years?
A: It was omitted from the last album. It was the strangest thing, but it just didn't make it. I love the mix that David Cole – who is from San Marcos and has been my sound engineer for 35 years – made. It's a wonderful mix.
Q: Is there any music that you listen to for pleasure or inspiration that has little or nothing to do with the type of music you make?
A: You'd be surprised how much bluegrass I hear because the game is so amazing. The lyrics aren't very deep, but the music is wonderful. I love blues and 50s rock very much. I still like this because it was so explosive and primal. I probably hear that most of the time.
Q: A major turning point for many musicians is the transition from a van to a tour bus. Was that true for you and the Silver Bullet Band before "Live 'Bullet", your breakthrough album from 1976?
A: I never drove from a van to a bus. We switched from station wagons to jets because Live Bullet went platinum within six months of its release. So we went straight to the jets!
Bob Seger, Farewell Tour "Roll Me Away"
When: Thursday, 7.30 p.m.
Where: Viejas Arena at the Aztec Bowl, San Diego State University, 5500 Canyon Crest Drive, San Diego
Tickets: $ 75 to $ 125 plus service fees
Phone: (800) 745-3000
Online: ticketmaster.com
Twitter @georgevarga
UPDATE:
5:55 pm: The Nashville musician Bob Seger refers to in the bonus Q&A in this article is Glenn Worf, not Glenn Moore.